Get Ready for the Adventure Ahead in a Brand-New Kia SUV, Here in Novi!
The sport utility vehicle (SUV) enjoys a place of prominence in today's society given that these durable cars can be excellent choices for families and those looking to take on adventures. While the modern SUV may come in all different shapes and sizes, it is widely accepted that an SUV ought to rise above an ordinary car to give you more space, safety, capability, and efficiency. Here at Feldman Kia, our lineup of new Kia SUVs reflects all of these important attributes of a good SUV, and so much more! With their space, safety, and style, a Kia SUV can be ready to take on all of life's challenges, whether on the road or off of it. All of these SUV models made the 2018 Top Safety Pick list by the Insurance Institute for Highway Safety (IIHS) and most have a full five-star overall rating from the National Highway Traffic Safety Administration (NHTSA), which makes them ideal choices for smart shoppers like you! Let us take a look at each of the Kia SUVs that we have to offer here at Feldman Kia so that you can decide which one is right for you and your needs! Our Kia dealership is located here in Novi, Michigan just a short drive outside of Detroit.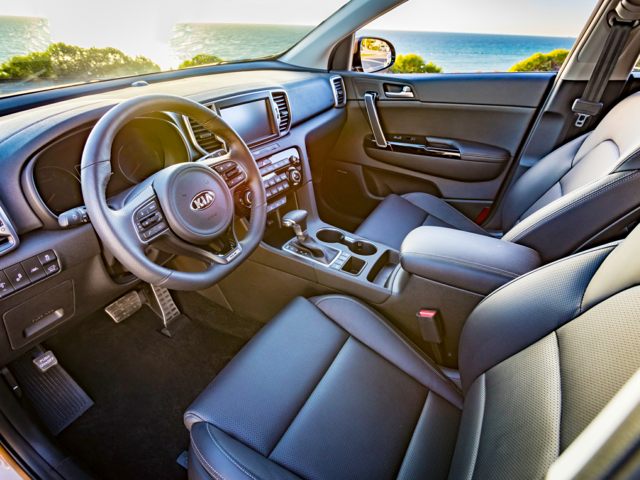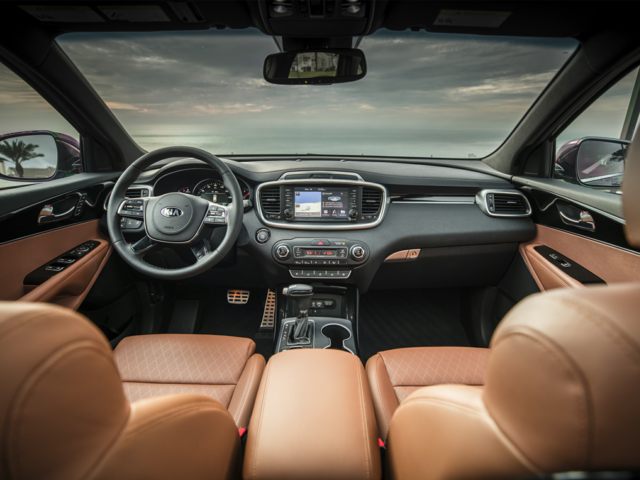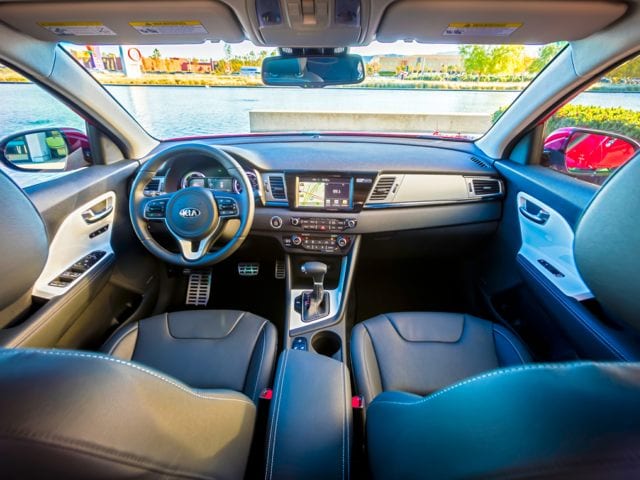 Kia Sportage
We begin with the Kia Sportage, a mid-sized SUV that does its name justice in all of its capability and power. This SUV features a 2.4-liter, 181 horsepower Gasoline Direct Injection (GDI) inline four-cylinder (I4) engine which generates 175 pound-feet of engine torque and features either front-wheel drive (FWD) or Dynamax™ All-Wheel Drive (AWD). This AWD system, which comes available on all Kia SUVs, is much more intuitive than the average four-wheel drive as it utilizes electronic sensors underneath the vehicle to observe the road conditions and adjust traction accordingly to match, which comes in handy during the winters in Farmington Hills. The Kia Sportage also has a ground clearance of 6.4 inches, giving you a much clearer view of the road ahead, as well as a 2,000-pound towing capacity.
Kia Sorento
When it comes to providing a spacious family car, the Kia Sorento is definitely a well-known name among SUVs and its new 2019 model goes even further in bringing out its family-friendly reliability. The new Kia Sorento has room for seven passengers with a total passenger volume of 154.2 cubic feet, giving all three rows a great deal of head and leg room. When you need more space for cargo, simply fold in the rear seats to free up to 38 cubic feet of cargo volume behind the second row and 73 cubic feet behind the first row. Those of you with smaller children might appreciate the interior upholstery featured on base trim levels of the Kia Sorento as it is made from YES Essentials® cloth fabric, which is much more resistant to stains and spills than the cloth interiors of many other SUVs. This mid-sized SUV also features some powerful engine choices, such as the 3.3-liter, 290 horsepower GDI DOHC V6 engine. This V6 engine, when working with the intuitive AWD system, allows your Kia Sorento to tow up to 5,000 pounds, giving you a diverse range of items that you can take with you on the journey to Livonia, such as boat trailers, small campers, and U-Haul storage containers.
Kia Niro
Finally, we come to the Kia Niro, which works to redefine what an SUV can be with its Full Parallel hybrid energy system. Whereas many SUVs have the reputation of the "gas-guzzler," the engine system of the Kia Niro combines a 1.6-liter, 104 horsepower I4 engine with a 43 horsepower AC Synchronous Permanent Magnet Electric motor, both of which work in constant harmony as you drive from Southfield to Detroit to power a 240-volt Lithium-Ion Polymer battery. The result of this hybrid efficiency is an EPA-estimated 52 miles to the gallon in the city and 46 miles per gallon on the highway, as well as a total power output of 139 horsepower. The Kia Niro also features a passenger capacity of 101 cubic feet and comes available (as all Kia SUVs do) with such driver-assistive features as Blind Spot Detection (BSD, Lane Change Assist (LCA), Rear Cross Traffic Alert (RCTA), and Autonomous Emergency Braking (AEB) with Pedestrian Detection.
We Are Ready for You!
No matter which of these new 2018-2019 Kia SUVs you choose, you really cannot go wrong as each one exemplifies everything that a sedan should be, from their wide range of safety features to their off-roading performance and spacious interiors. Find yours today and test drive a brand-new Kia SUV here at Feldman Kia! We are located at 42235 Grand River Avenue in Novi, MI and our Kia dealership is proudly serving Southfield. Come see us today!